Call to Makers; Bluecoat Display Centre
16 June 2022
Deadline: June 27, 2022
The Bluecoat Display Centre in Liverpool have released a Call to Makers for their ''In the Window' Exhibition Opportunity'.
Who is eligible?
This opportunity is open to emerging and established designers, applied artists and makers, living and working in Ireland, to display their work for one month 'In the Window' between 1 – 31 October 2022 as part of Liverpool Irish Festival 2022 (#LIF2022), supported by the Design and Crafts Council of Ireland.
Makers are invited to submit work related to the Festival theme of 'Hunger'. For more information about the theme for 2022, please visit the #LIF2022 website.
Accepted disciplines:
–  Ceramics
–  Jewellery
–  Glass
–  Textiles, including constructed textiles
–  Wood, including basketry
–  Metal, including precious metals
–  Paper, leatherwork and mixed media
–  Employing new technologies or traditional techniques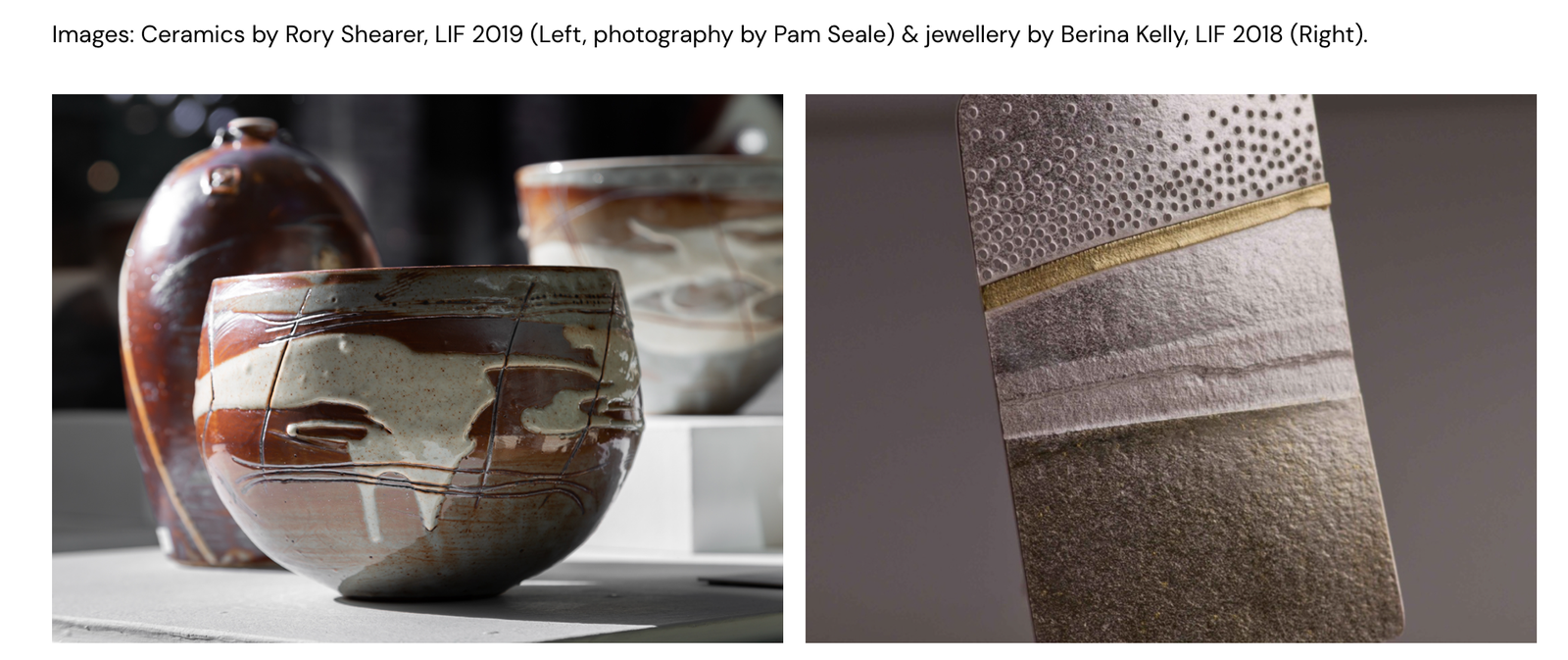 Application:
Your statement must demonstrate how you believe your work connects with or exemplifies the Festival theme of 'Hunger', either in your process, output or user experience. It will be expected that your application responds to the full artistic statement and creative call. If selected, you should be able to answer interview questions on this. See the statement and creative call here.
The exhibition work does not have to be new (preferably made within 2 years), but will be available for sale. To submit a proposal please email crafts@bluecoatdisplaycentre.com with:
–  a selection of 5 images (maximum size per image 2MB)
–  prices of your proposed submissions
–  a statement about your work and how it is relevant to the "hunger" theme
–  your current biography / CV
The Design & Crafts Council Ireland will contribute up to €500 for transport costs.
For more information on this opportunity and exhibition dimensions see here.
Deadline for submission is Monday 27th June.
Images: Sophie Longwill 'In the Window' display, LIF 2021 (Above) & ceramics by Mike Byrne, LIF 2020 (Below). Photography by Pam Seale.