This year we invite makers to apply to the annual August Craft Month Exhibition 2023, responding to the theme Pathways. You can find more information about this year's theme and how to apply here. If this sounds like something you would be interested in, take some time to look through the winners of the 2022 Guild Prizes!
Each year we are extremely grateful to the former Guild of Northern Ireland Designer Makers (The Guild) who have given us a legacy gift for the development and promotion of the craft sector in Northern Ireland, providing prizes for the exhibition. The prizes available include 1st Prize: £500, Highly Commended: £250 each and Emerging Maker: £500 each for makers who have been practicing for five years or less.
Explore the case studies below that demonstrate how these talented makers benefitted from taking part in the August Craft Month Exhibition.
2022 1st Prize – Andrea Spencer, 'Vessel'
Taking part in the August Craft Month Exhibition  2022 was a wonderful opportunity for me to push the boundaries of my practice. Given the possibility to exhibit my work without limitations, meant I was able to showcase a piece that fully embraced a more sculptural, installation based approach, something I really enjoy and rarely get a chance to show. 
As a professional craftsperson, the August Craft Month Exhibition is a valuable experience to participate in. It facilitates the best of work being produced in Northern Ireland being seen by significant jurors from beyond Northern Ireland.  Winning the first prize last year was a surprise and delight. To be recognised for an award was a real morale boost and the prize money contributed to  investing in my practise for the future. Having my piece Vessel purchased by a collector was the icing on the cake.
I currently have work on display at the Ireland Glass Biennale in Dublin and will be co-facilitating a three day flameworking Master Class with Annie Catterell  from my workshop on the North Antrim Coast August 4th-6th.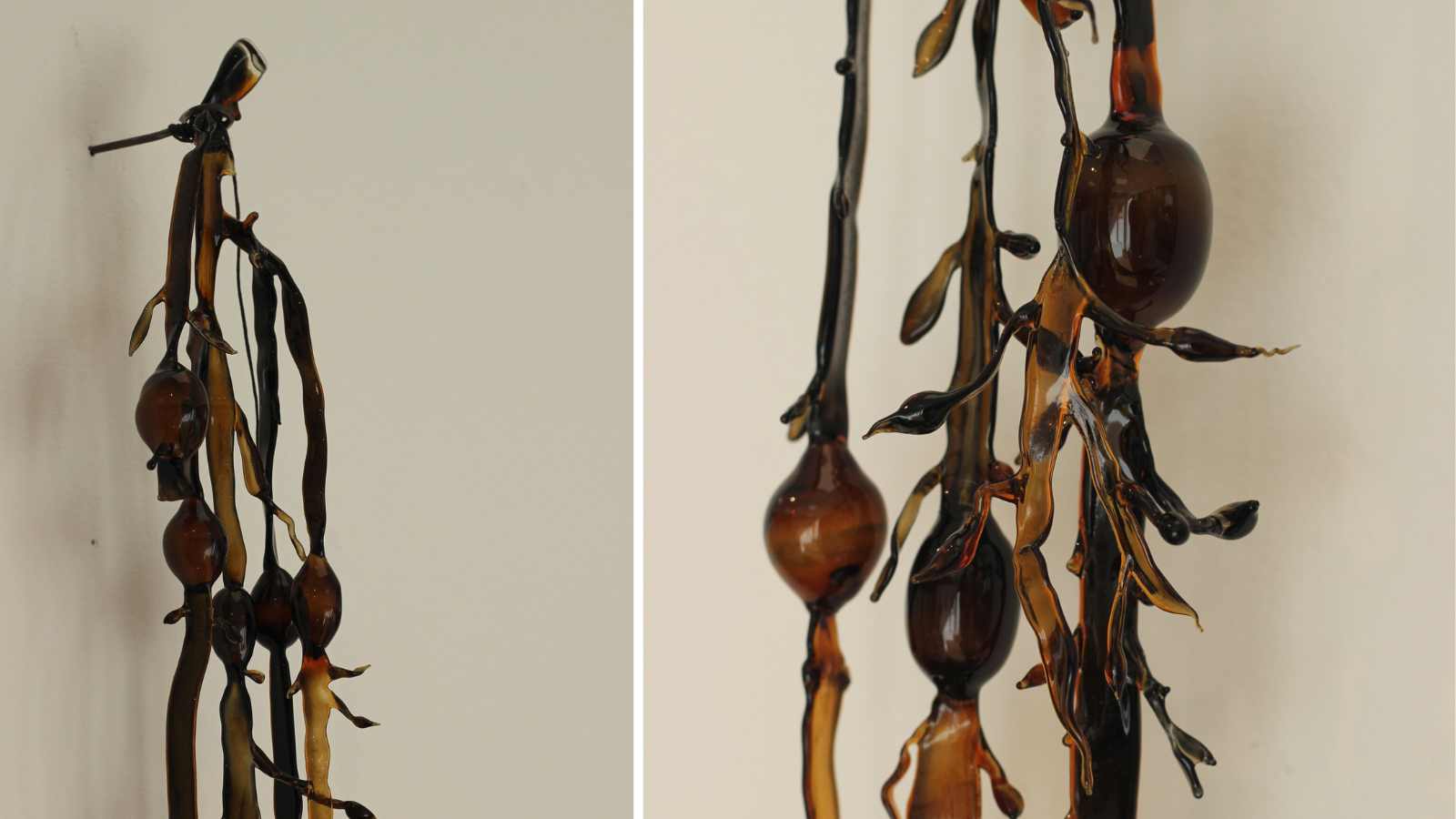 2022 Highly Commended – Scott Benefield, 'Tidepool 2, 3 and 5'
I was pleased to exhibit my work in the August Craft Month exhibition at Craft NI last year, because it gave me an opportunity to show some of my more elaborate pieces to a local audience. The bulk of my practice involves the practical necessity of making production wares—functional, utilitarian pieces that are affordably priced and designed to be made in unlimited multiples. They sustain the not inconsiderable overhead expensive of maintaining a glassblowing furnace.
But occasionally I get to make unique pieces that allow me to spend more time making complex patterns and working on a larger scale. It's good for people in the crafts to be able to stretch creatively now and then. This work is more suited to higher end galleries and exhibitions which are often located elsewhere in the UK and Europe, but I'm always happy to be able to engage the community in Northern Ireland.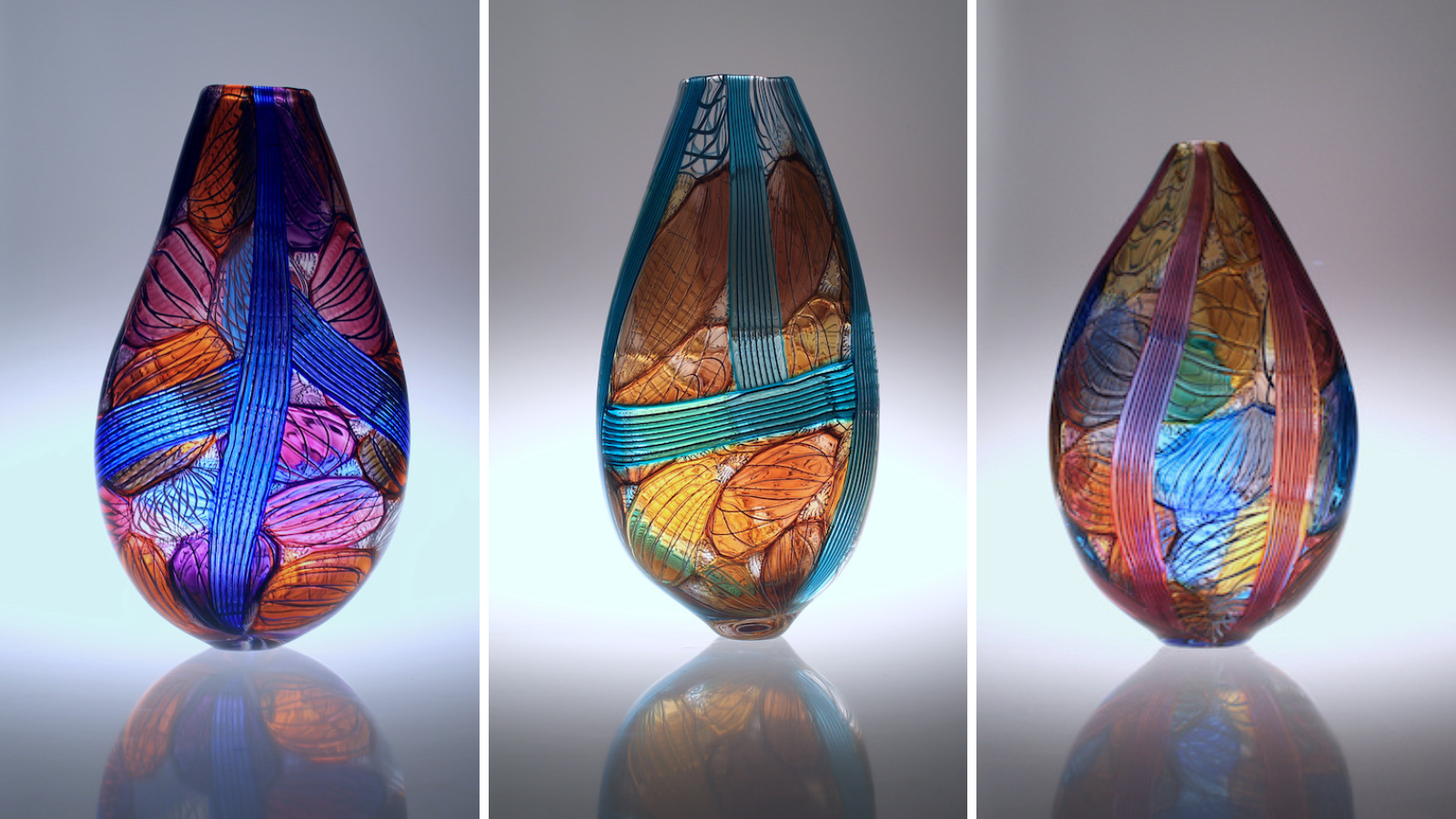 2022 Highly Commended – Stuart Cairns, 'Sprung Vessel and Spoon'
I was really happy to have my  set, Sprung Vessel and Spoon, selected for the ACM exhibition, I hadn't put much work forward for exhibition for a while so I was delighted to have made the cut! The exhibition itself was fantastic, really lovely to be showing beside some great makers and catch up with them at the exhibition opening.
Winning highly commended was a nice surprise and getting feedback from the invited curator, Daniella Wells, was invaluable as it gave me a different perspective on how my work is seen in the wider context of craft. I'll definitely be applying again this year as I push on towards a solo show in October in the Island Arts Centre in Lisburn as well as taking part in a number of group shows across the UK and Ireland.
2022 Emerging Maker – Sarah Cathers, 'Common Thread'
Last year I was selected to exhibit my piece, 'Common Thread' in Craft NI's August Craft Month exhibition. I was so grateful to be awarded 'Emerging Maker' and so lucky to exhibit alongside some of Northern Ireland's best craftspeople.
At the time, I had recently discovered that adopting a playful approach to making is the key part of my creative process. The prize money allowed me to dedicate time to make without the pressure of creating something perfect to sell or exhibit. I used the funds to buy clay and equipment to dip my toes into a new way of working with found objects. This is an area I am planning to develop further, leading my work in a new direction.
Without the award, I wouldn't have had the resources to experiment and explore materials in the way that I have. Thank you to Craft NI and The Guild for investing in me and my practice!

To apply to the 2023 August Craft Month Exhibition, see here for more information.
You can see all of the talented 2022 participants and their works, here.