This year we invite makers to apply to the annual August Craft Month Exhibition Showcase 2022! If this sounds like something you would be interested in, take some time to look through the winners of the 2021 Guild Prizes!
In 2021, the exhibition theme was 'RE-New', looking to celebrate a sense of renewal makers were invited to reflect on the theme.  Submitted work was directly inspired by the theme itself, were pieces that took the makers craft practice in a new direction, or existing work the makers wanted to showcase.
Each year we are extremely grateful to the former Guild of Northern Ireland Designer Makers (The Guild) who have given us a legacy gift for the development and promotion of the craft sector in Northern Ireland, providing five prizes for the exhibition. The prizes available include;
1st Prize: £500
2 x Commended: £250 each
2 x Emerging Maker prizes: £500 each for makers who have been practicing for five years or less.
Explore the case studies below that demonstrate how these talented makers benefitted from taking part in the August Craft Month Showcase.
2021 1st Prize – Sarah Cathers, 'Sole'
I was so pleased last year when I found out I was accepted for August Craft Month's 2021 'RE-New' Exhibition. I hadn't exhibited since October 2019. It felt quite daunting after almost 2 years! It was a great way to challenge my thinking and get my work back out there. It was wonderful to share some new ideas and such a pleasant surprise when I won first prize! Getting positive feedback from the judges was so helpful at a time when I felt a bit lost within my work, after the pandemic. It's also so useful to be able to share the online exhibition with those further afield or anyone who wasn't able to visit the gallery.
I used my prize money to explore other ideas in my work which I wouldn't have been able to fund without the help of the Guild. I am so grateful to both Craft NI and the Guild for the wonderful opportunity!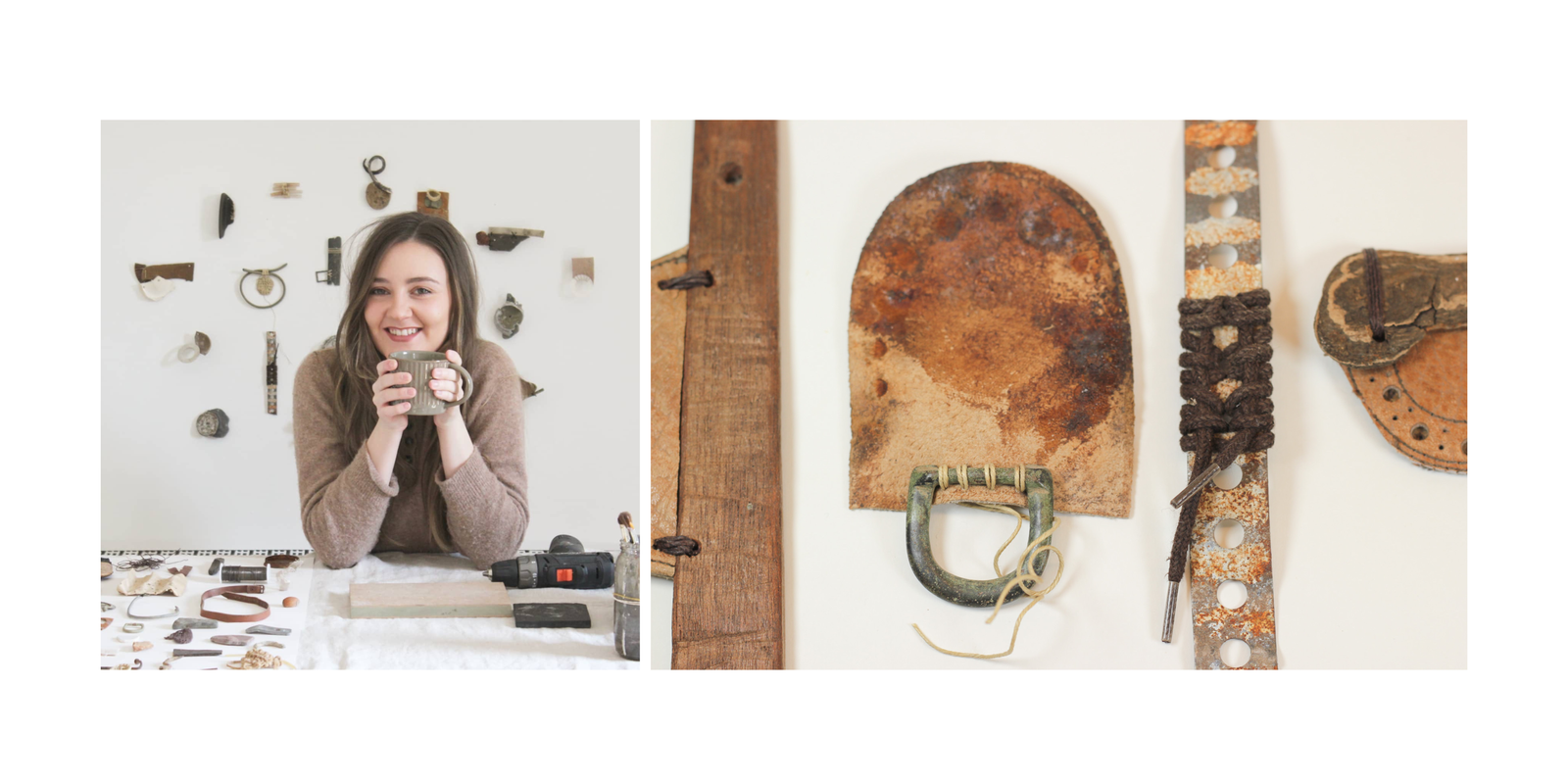 2021 Highly Commended – Ruth Osborn, 'The Swell'
I was delighted to have receive a Highly Commended Award for my work 'The Swell', which was exhibited in Craft NI's 2021 exhibition. Personally, the Award was a confidence boost, especially as it came at a time when there were fewer exhibition opportunities due to closures and uncertainties presented by the ongoing pandemic. It solidified in my mind that I should take more chances in terms of my approach to my craft, and what I produce, but also with the opportunities I pursue.
The feedback on my work, which was provided by the awarding panel, was 'food for thought' and I have returned to their comments as part of my own creative reflection throughout the past year as I have made work for my 2022 solo exhibition, Land and Lore, and explored new ways of taking my work forward. 
2021 Highly Commended – Anna Donovan, 'Budding Queue' Vessel
Last year I was very lucky to have my sculptural vessel 'Budding Queue' selected for the RE-New Exhibition at the Craft NI gallery. What made me feel even luckier was that I had got my dates mixed up and nearly missed the deadline to submit! 
I was delighted to get to exhibit at Craft NI as it is a leading craft organisation in a prime location in the centre of Belfast. 
Then I was blown away when I received word that I had been awarded one of the two Highly Commended Maker prizes.  
This was a very important piece for me and to have it make such an impression meant a huge amount, reaffirming that my work was making a connection. The cash prize was a nice added bonus!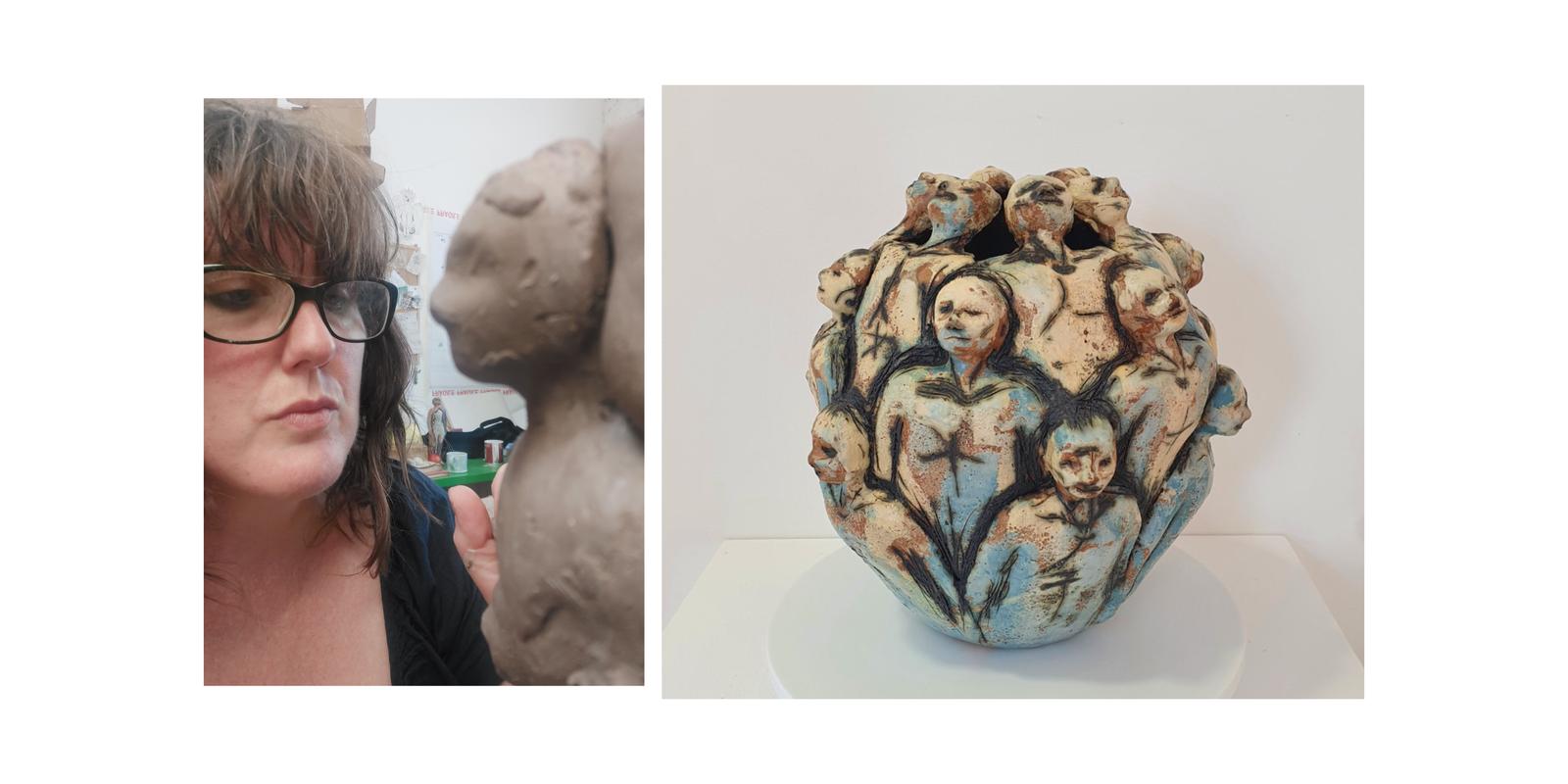 2021 Emerging Maker – Anna Smyth, 'Composure'
The 'Composure' pieces were the very first of my new work and the judges feedback and the affirmation which the award gave were timely and important as I prepared for my solo exhibition in November 2021, supported by ACNI. It was entitled 'Inner Journeys…' a showcase of almost 200 porcelain, sculptural vessels, with crystalline glazing.
The exhibition was a post pandemic, inspirational installation. It drew parallels between the difficult journey of each of the vessels as they grew beautiful crystals within, amidst an arduous firing, and that of ourselves, growing important inner qualities amidst the challenges and difficulties which we faced throughout the pandemic. The vessels were aptly titled: Composure, Enthusiasm, Courage and Hope etc. You can see a short video here. 
Pieces from this new work have been exhibited and sold at RUA 140th annual exhibition, stocked by So Fine Art Editions, Dublin and have recently been selected for the 'Sculpture in Context' exhibition 2022 in Dublin. So the 'Re-New' exhibition, being the first possibility to exhibit during the pandemic, was a pivotal launch of this new work. 
2021 Emerging Maker – Joel Smyth, 'Tactility Slender Silver Bracelet/Pendants'
The CraftNI exhibition was a grand finale to four years of work during my degree, and a large springboard which propelled me and my work further into the craft world. It was displayed wonderfully, united the cohorts pieces under one exhibition, and was a brilliant way of rounding off my final year and showcasing my contemporary jewellery collection, 'Tactility'. I am very grateful to Craft NI for the opportunity to exhibit and the online publicity it generated – Thank you!
I was greatly honoured to win a CraftNI Emerging Makers award, this was a huge boost, not only financially but also a boost in moral in receiving it! I waited until I found a worthy piece of equipment to purchase with it, something which would help develop my practise and ensure I can keep making jewellery for many years to come. 
I was privileged to recently receive a bursary from Ards & North Down Culture to avail of a diamond setting course by the Goldsmiths Centre in London, and now the timely spending of my Craft NI Emerging Makers award will facilitate a vital piece of equipment to enable me to go forward with this skill. I will be purchasing a pendant motor with the award very soon, which will help me to make and finish my designs with greater control and accuracy, this will help to further progress my young jewellery business and aid my creativity. The award also included fantastic feedback from the judges which I have been able to quote in various applications. This has been another great benefit resulting from the award, as these comments were constructive, helpful and affirming. 
Photography by Nathanael Smyth
To apply to the 2022 August Craft Month Exhibition Showcase, see here for more information.
You can see all of the talented 2021 participants and their works, here.