Craft NI Maker Forum 2022
11 November 2022
Deadline:
Thank you for attending the Craft NI Maker Forum 2022 which took place at the FE McWilliam Gallery and Studio on Thursday 24th November. During the forum we received updates from Craft NI Chair James Toland and Director Katherine McDonald, Maker Talk from jewellery designer, curator and educator, Seliena Coyle, partook in a table discussion reflecting on the positives and challenges faced by the Craft Sector, and explored the beautiful setting of the Made in Ireland Exhibition (on display until the 21st January 2023).
If you weren't able to attend this forum, we've compiled a list of resources presented on the day which includes useful information for grant applications, funding bids, service planning and more.
Craft NI Maker Survey; Please take some time to complete the Craft NI Forum survey which aims to gather insights into the current challenges faced by makers and their practices. Your insight is invaluable and will help inform support for makers across Northern Ireland. The survey takes 10-15 minutes and all responses are confidential and anonymous.
Craft NI Report: Increasing Resilience in the Craft Sector; In March 2021, Craft NI commissioned research into the impact of Covid-19 on the craft sector in Northern Ireland, through maker surveys, desk research and interviews. We hope this report will be of interest to: local and central government, economic development agencies, stakeholders in arts, culture and tourism and others concerned with the success of the craft sector and its continuing contribution to our quality of life in Northern Ireland.
August Craft Month Evaluation and Publicity; Find the full August Craft Month 2022 summary and detailed JAGO Publicity Report.
Craft NI Strategic Plan 2022-2025 Summary; Craft NI's mission is to build an integrated, entrepreneurial and vibrant contemporary crafts sector in Northern Ireland, actively supported by regional and local stakeholders, that contributes increasingly to the creative, cultural and economic life of Northern Ireland. You can find the 2 page summary of our Strategic Plan by following the link.
Crafts Council: Market for Craft Report; Find the Crafts Council's full Market for Craft report and data analysis tool which answers the questions, who is buying craft, where are they finding it and how?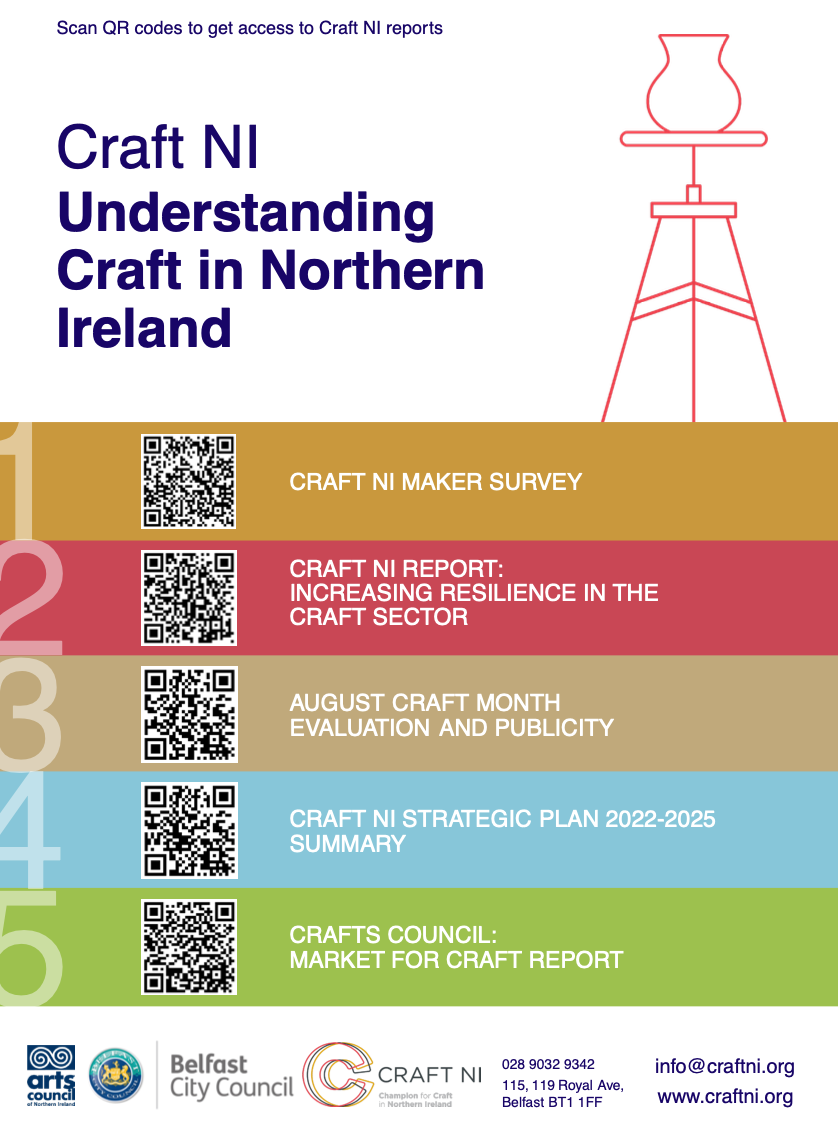 There will be more opportunities in 2023 to attend Craft NI Maker Forums, we hope to see you there!