Exhibiting at Craft Fairs and Trade Shows Recording
29 March 2022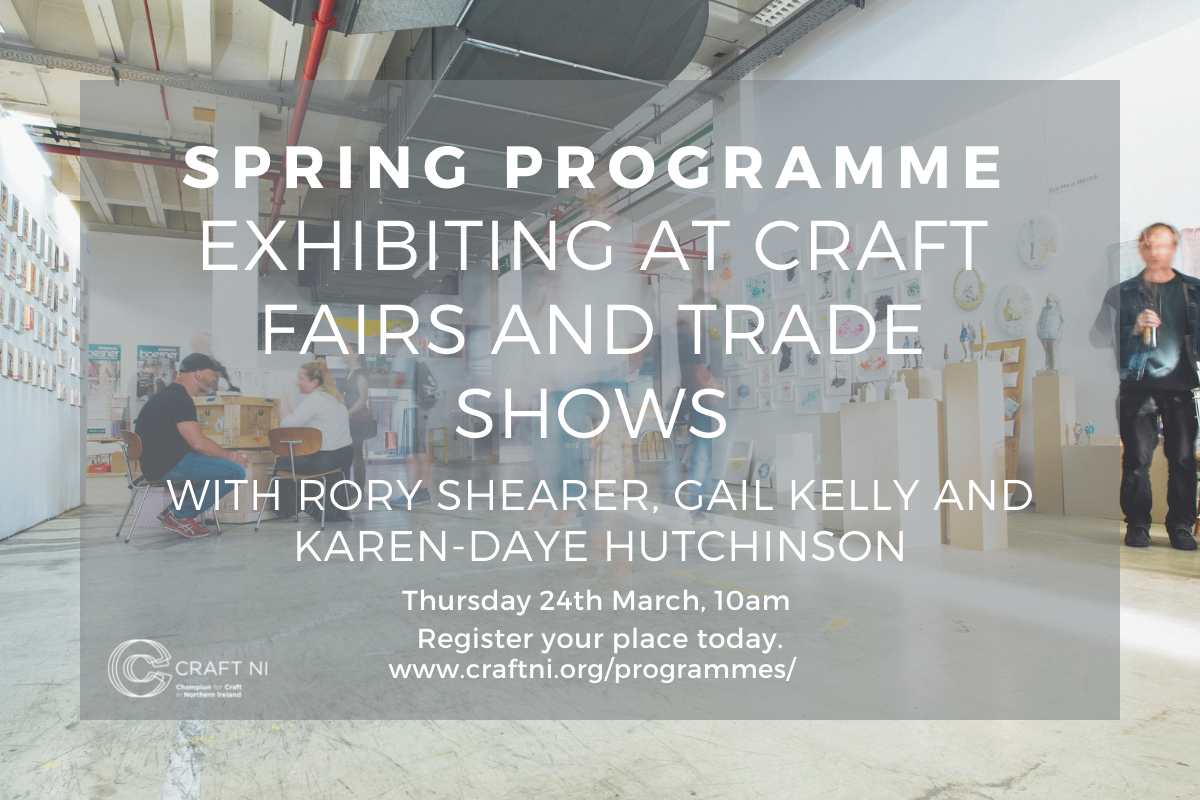 In this session we will hear from three makers with experience of homewares and ceramics fairs in Britain as well as the Irish-focused Showcase, which takes place every year in the RDS in Dublin. This session aims to provide valuable, honest advice on how to research what shows and fairs are right for you and your work and other important factors to consider.
Key points include;
Application processes
Budgeting for and understanding a range of fees you will encounter
Conducting your own research to see what shows suit your craft business, e.g. visiting shows before purchasing a stall
How to create an attractive stand and approach your audience
Understanding your capabilities and how to set realistic targets for yourself
Pricing and selecting your work
Important contacts to note
A research document has been compiled, detailing available fairs across the UK and Ireland, organised by region, type and specific craft. This document is editable so please feel free to download and edit to suit your craft and needs.
Trade Shows and Craft Fairs Excel Sheet
We're so grateful to these three makers for sharing some of their experiences along with top tips and dos and don'ts for makers thinking of applying to trade shows or fairs in the year ahead.
About Gail Kelly;
Gail Kelly is based in County Down, Northern Ireland where she creates hand stitched collages of linocuts and woodcuts printed on Irish linen. Her work is inspired by the countryside where she lives along with landscapes and gardens she has seen on her travels throughout Britain and Ireland. Gail has been a full-time, self-employed printmaker since 1995, but found her roots in craft by learning from her mother as a child. Gail achieved a BA Hons from the Ulster College of Art and Design and a MFA from Louisiana State University in Baton Rouge, Lousiana, USA and has over 27 years of valuable experience to share.
@gailkelly_alganarts
About Karen-Daye Hutchinson;
Karen studied Fine Art at both Belfast and Manchester. Specialising in hybrid printmaking, sculpture and metal work; her work reflects an interest in habitat, architecture and literature. Using line and colour as a language to explore the parameters of printmaking, with symbolism as an allegory; deconstructing situations, fairy tales, nursery rhymes or poetry that are part of childhood and adult culture. Karen his been represented in solo and group exhibitions both nationally and internationally to include Cannes, Germany, France, Luxembourg, America, Canada and Japan. She has received many awards and commissions from a variety of institutions and her work is represented in numerous public and private collections.
@karendayehutchinson
About Rory Shearer;
Rory Shearer has been making pots for 33 years. He graduated in 1976 with a BA Hons Degree in 3D Design (Ceramics) followed by a post-graduate Art Teachers Diploma. His first workshop was established in Newry in 1980 and his current studio is in the Antrim hills between Ballymena and Ballyclare. A Ceramic Specialist Lecturer and HND Fine Art Course Coordinator at Belfast Metropolitan College, Rory's work is wheel based, broadly functional and he works with stoneware and porcelain firing in a gas kiln to 1280C in a reduction atmosphere.
@roryshearerceramics