How to be a Responsible Business with Sophie Rochester
7 February 2023
Deadline: March 6, 2023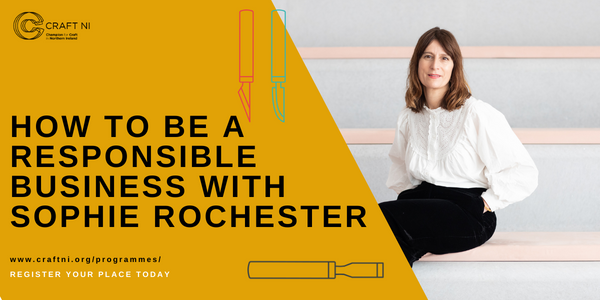 Taking place on Monday 6th March, from 11am-12 noon, join us online for How to be a Responsible Business with Sophie Rochester.
Sophie Rochester is a craft social entrepreneur and author of Making a Living, a practical hands-on guide to running a craft business. From her experience working with a range of makers, Sophie is keen for craft makers to be able to explore and then describe how they are growing to become responsible businesses – without overwhelming the already multi-tasking craft maker! She argues that responsible businesses are about putting the pieces in place to ensure that your business grows with due care and consideration, taking responsibility for your actions and its impact on anyone that the business intersects with – suppliers, stakeholders, the wider community and the environment.
Responsible businesses will have specific standards about the way they conduct their business, how they treat people (employees, customers or participants that come into contact with the business), how they might reduce their impact on the environment.
Many makers and craft businesses are already well aligned with the principles of 'responsible business' but perhaps haven't articulated these externally, and for those looking to improve, Sophie argues that there are some simple actions that you can take to establish a responsible business framework to work within, without creating lots of additional work for small businesses.
In fact, running a responsible business is 'good for business', with a growing number of customers and funders looking for ethical and sustainable brands to support.
The session will work through a checklist to help you to consider some of the key things you can do to ensure your business can grow responsibly – without overwhelming you!
Register your place on this free session by following the link below! This session will be recorded.
About Sophie:
Workshops will be led by Sophie Rochester from Yodomo Ltd. In 2022, Yodomo has been growing its work in the circular economy. It is a social venture and is part of the Meaningful Business network and the Cambridge Social Ventures Alumni. In 2021 it was awarded 'Highly Commended' at the Tech for Good Awards in the Arts & Culture category.  Making a Living was highly commended in the Business Book Awards 2022.
Find out more about Yodomo here.