Integrate Accountability Group Programme
8 March 2022
Deadline: March 28, 2022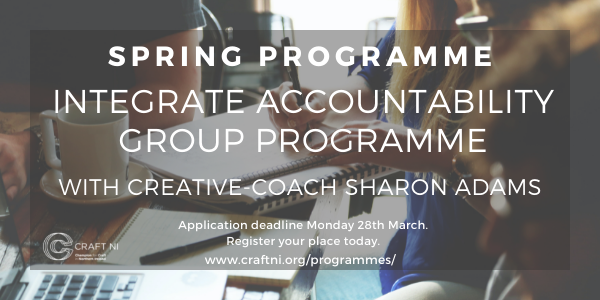 Craft NI is pleased to pilot a short accountability group programme – Integrate – for makers who want to take a more focused approach to marketing their work in 2022.
Chances are you've engaged with various training sessions over the past two years (and beyond), but in the reality of everyday life, you default to what you've always done, while feeling guilty that you should be doing something different.
Everybody's circumstances are different, so Integrate is offering a small group of makers a focused space to work with creative-coach Sharon Adams over the next few months and make sustainable changes to how they promote their work. This is a fully-funded pilot for a small group of makers who will be selected by application.
Integrate will help makers get past feeling overwhelmed with all the things they 'should' be doing. Instead, each person will work out their own personal plan, focusing on actions which are achievable for their particular situation. Sharing goals in a group creates mutual support, and together we will troubleshoot technical questions, with support from Craft NI,  and cheer each other on – in the meetings, on our socials and in real life.
Sharon says:
I'm one of those people who gets really excited in training sessions. I take reams of notes, convinced THIS is the very thing that will change my life. Afterwards I generally lose the entire notebook for at least 6 months while getting on with all the other urgent stuff that was already there before the workshop.  I've therefore created Integrate so people can take stock of the things they've been learning, cherry-pick which bits will really help them, then make a clear plan. And stick to it.
Nobody can do all the things – the trick is to identify the most effective steps for your circumstances and then focus on doing those things well.
In this programme you will:
Identify your priorities for 2022/23
Explore a marketing plan with your options
Review plans together and decide what's realistic to commit to in real life
Meet monthly (see dates) to check in with progress, share successes and help each other with any difficulties
Format:
6 sessions (a mixture of zoom and in-person by agreement) 10.30-12.00 on:
Thursday 28th April
Thursday 26th May
Thursday 23rd June
Thursday 15th September
Thursday 13th October
Thursday 17th November
max 8 participants (9 on screen means everyone is visible)
no recordings, in person sessions only
Please note, we expect that applicants will have started trading between 4-8 years ago.
Before applying, please ensure that you are available for all sessions listed.
Application deadline is Monday 28th March, please find the application form here.
If you have any questions, please contact the team at info@craftni.org.
About Sharon:
Sharon Adams is a specialist craft-coach and visual artist living and working in rural NI. With a past career in event management, Sharon left London in 2008 to join the full-time degree course in 3D Materials Practice at the University of Brighton, graduating in June 2011. She returned to NI in 2012, after 25 years in London/Brighton, establishing her studio in an old farmyard, where she also hosts occasional exhibitions and workshops.
Alongside her personal practice Sharon has previously worked on freelance projects covering editing, marketing, event production, project management, website building, maker training and community arts projects. She undertook coaching training with RD1st and has been working as a creative-coach in the cultural sector since 2020.
At the heart of Sharon's coaching practice, is the search for the balance that can be achieved between nurturing creativity and understanding the realities of owning a business. Sharon's many years of experience across a broad platform of industries, demonstrates her own capabilities with this.
Sharon will use her skills as a creative-coach with a deep understanding of the life of a maker, to help you identify your priorities for the year ahead. To do this you will analyse your needs and your situation and construct a viable marketing plan that suits your business and lifestyle, with support from Sharon, a small selected group of peers and Craft NI.