Intellectual Property Basics with ACID
3 April 2023
Deadline: April 27, 2023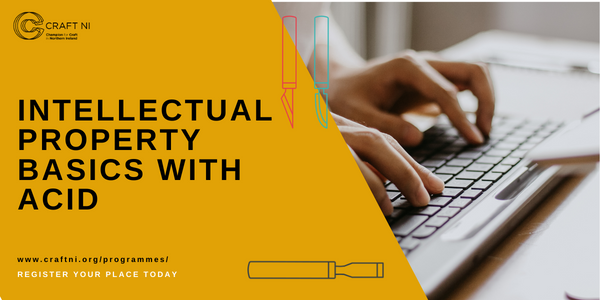 Join us for IP Basics with ACID as part of the 2023 Spring Programme. Taking place over zoom on Thursday 27th April at 11am, join Simon Sellars from Anti Copying in Design (ACID) who will delve into the world of Intellectual Property for small craft businesses. This session will cover:
What is IP?
Know your IP rights.
The small print – IP in Agreements
Course content – what do I own?
How can I protect my IP rights?
Infringement – what can I do?
Exhibiting, show casing.
– tips & advice
Myths & Howlers – what you should know?
How to take legal action?
ACID IP Charter
SUMMARY and Q&A
We are keen to structure the session around maker questions, if you have any questions about IP for the ACID team, make sure to send them through ahead of time by Wednesday 5th April to lorna.towns@craftni.org.
This session will be recorded. If you would like to ask a question anonymously, notify Lorna. Register your place here.
About ACID:
ACID is the UK's leading membership and campaigning organisation for Design & Intellectual Property.
For a quarter of a century, ACID have been committed to raising awareness and encouraging respect for IP, with an emphasis on creating the safest possible trading environment for its members. ACID membership gives you access to a thriving online community with a wide range of benefits, services and educational self-help tools to protect your business from the devastating impact of design-theft.
Find out more about ACID, here.