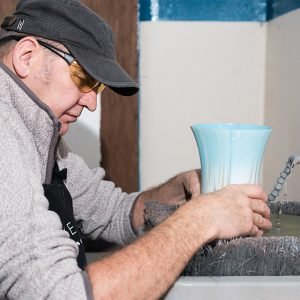 Artist Keith Sheppard who is based in Moyallen, Co. Armagh in Northern Ireland established his glass art studio in 2012. The business specialises in the production of kiln formed glass art and focuses on the development of high-end bespoke pieces. The pieces predominantly involve the infusion of metals into glass; and this process gives each piece a further dimension of uniqueness and identity with enhanced vibrant colourations.
Recently Keith has been involved in creating individual unique sculptural pieces for galleries and private commissions including a 1.7 m glass angel. Keith is established in a number of Galleries including the renowned Cecilia Colman Gallery in London and the Guinness Gallery in Dublin. He also produced the Ulster Tatler awards 2018 and 2019 and he has a number pieces of his most recent collection of work The 'Scandza' Collection' due for delivery to the Killkenny Design Centre.
Keith's work is unique, bespoke, handcrafted functional and non-functional tableware, indoor and outdoor sculptures , wall art and awards. Keith 's Glass Art pieces are Corporate, Private and Gallery orientated and he also provides an individual commissioning service.
Keith Sheppard the Artist
Keith lives in Portadown, Co Armagh. All his life Keith has embraced the outdoors in the most adventurous of situations. This aspect of Keith's life was curtailed in 2009 after a life threatening skiing accident. Keith sustained a Spinal Cord Injury, initially paralysing him from the waist down. Faced with the medical opinion that the probability of walking again was less than 3%, almost seven months later, Keith walked out of Hospital and drove home to start his Artistic life. – And so ended the life of the adventurer and began the life of an Artist.
Keith, the Artist has trained in both Ireland and England over the last 10 years. He predominantly works with Copper in glass to create bespoke vases and bowls, but more recently, he has been involved in creating individual unique sculpture pieces for gallery display. As the metal fused at vertebrae C6/C7 this keeps Keith walking and so preserves that aspect of his active life.
Keith's Art explores the possibilities of fusing the improbable to create objects which are remarkable, interesting and life affirming – that is; glass fused with metals in a kiln at temperatures of up to 1000+ C.
His expanding development shows originality and energy; – his body has been irrevocably changed by nature: his Art shows a similar but in this case a positive metamorphosis.
Artist Statement:
"In a relatively short period of time I have been catapulted forward, accelerating my individual creativity and exploitation of the qualities of kiln formed glass. Whilst practising and experimenting with different techniques I was excited by my intentional and accidental outcomes. By bringing glass and metals together I have attempted, not only to express my individuality, to define each piece's functionality, but also to create a strong visual attraction to 'touch and feel' the nature, outline and identity of each piece.
I am extremely excited with recent developments, particularly with my new large sculpture pieces, vessels and more recently my 'Scandza' collection. My goal is not only to make work that is certainly possible to be used functionally but also to cross the boundary of function to that of a work of art."
Keith Sheppard