Photo: studio visits August Craft Month 2020
Now open for Event Registration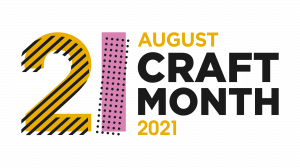 August Craft Month 2021 |  Now open for Event Registration
We are delighted to launch our call-out for August Craft Month 2021, Northern Ireland's unique celebration of the craft sector, providing opportunities for the public to experience, participate in and learn about Craft.
Craft NI leads on the promotion and communications of all the events, profiling makers, highlighting venues and the work of the Councils, to increase the public's understanding and appreciation of  the work of Northern Ireland's many talented makers.
Last year August Craft Month 2020 was predominantly online based due to the Covid 19 pandemic, which brought opportunities to hear from international speakers and for makers to show work globally online. By August 2021, we hope that galleries and museums will be open again to the public in some way, and that open studios and workshop spaces might seem possible again for makers. But we assume that that some covid restrictions are likely to apply for some time to come.
It's been a difficult year for many in the craft sector. But we hope that August Craft Month will mark a welcome chance, whether in-person, online or both, to come together to celebrate Northern Ireland craft and craft makers, as well as to add  to the positive  range of events for people holidaying at home, profiling Northern Irish craft to a wider audience.
CRAFT NI invites you to register a Craft-related event for August Craft Month 2021.
Deadline for Event Registration | Online by Friday, June 18th*.
Before completing your application, please read carefully the Terms and conditions
* You can still register for events after this date for inclusion on our digital platforms. But the more time there is to promote your event, the better..