Own Art now available at Craft NI Gallery
3 December 2020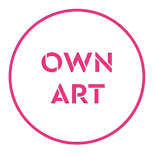 Craft NI Gallery has joined the Own Art scheme, which offers individuals 0% loans for the purchase of contemporary art and craft.
Shoppers can now avail of the scheme (subject to eligibilty) when making purchases from our retail selection, or from work in our exhibition space, such as the current exhibition Pinned, which features over 50 brooches from local makers.
Loans of £100-£2,500 are repayable over 10 months, and can be for any selection of items which total over £100.