Product Photography for Beginners with Simon Mills
7 March 2023
Deadline: March 28, 2023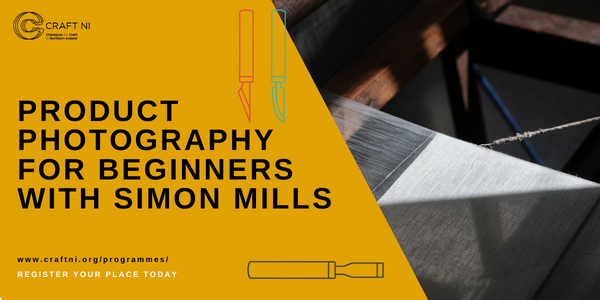 This session is fully booked.
Taking place on Tuesday 28th March from 11am-3pm, join us at the University of Atypical for Product Photography for Beginners with Simon Mills.
This half day session has been developed for complete beginners to photographing work. No prior knowledge is required for this session which will be aimed at using a camera phone and basic household materials to document your work. While focusing on the basics of photography and lighting, many of the fundamental ideas discussed would be applicable for those using more advanced cameras and lighting setups. The day will cover the following:
Theory:
Brief intro to documenting work
Best practices for using the camera on your phone
Benefits and drawbacks of camera phones
Practical:
Working with light
Basic light modifiers using card etc
White background shots using natural light (weather dependant)
Making your own light tent
Using artificial lights
Important information:
This session will accept a max number of 15 Attendees
Please bring along your camera, and send details of the make/model to Lorna when registering.
There will be a short break at 12 noon for lunch, please either bring lunch or there are local shops nearby which you can visit.
To register your place, email lorna.towns@craftni.org.
About Simon:
Simon Mills is a Belfast based documentary photographer and film maker. As well as exploring making processes and communities, Simon also documents exhibitions, installations and works for galleries and artists across Ireland and the UK.