Smartphone Product Photography at Home
4 September 2023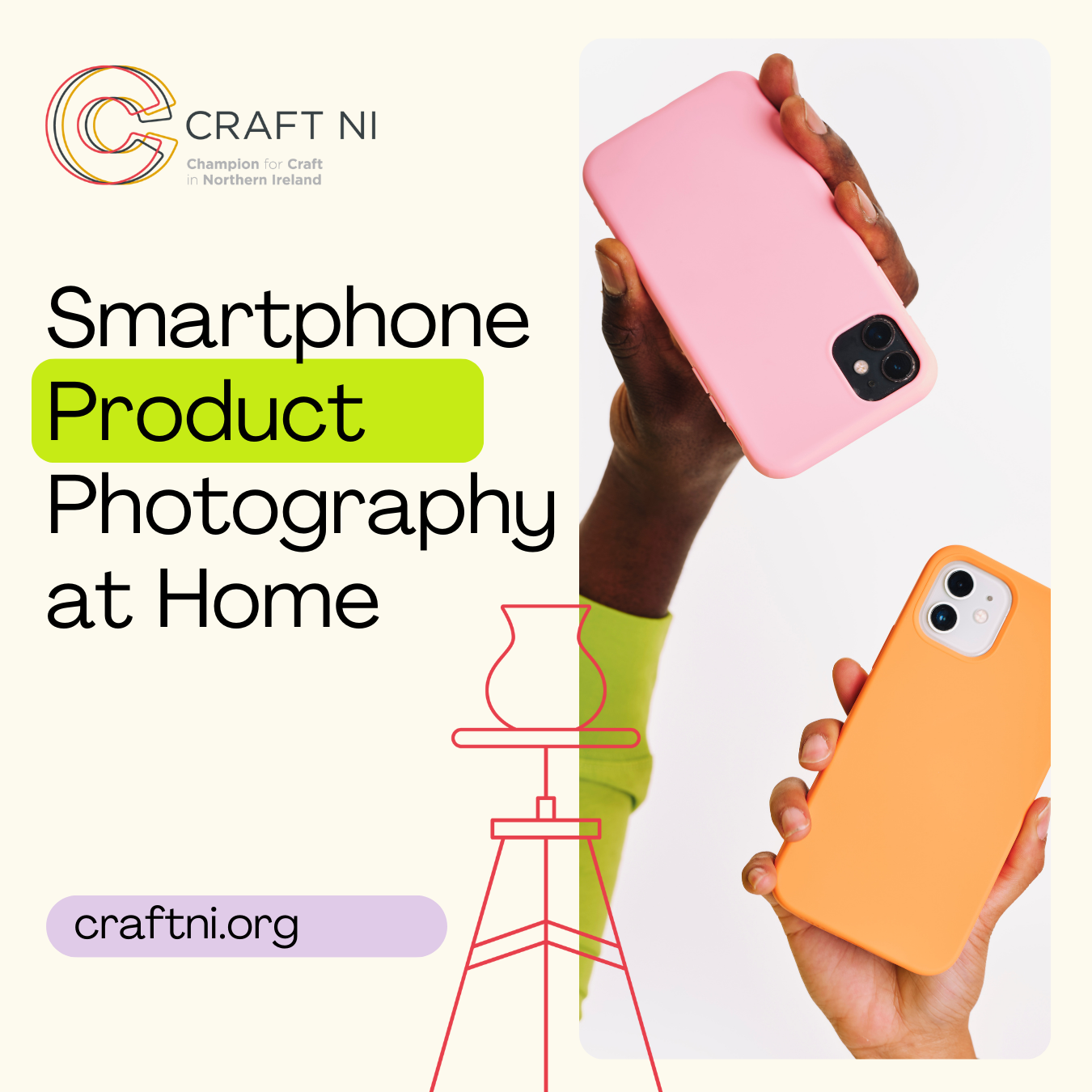 Step-by-step guide for Home Photography
Katya Buryakova
At Craft NI we must do a lot of product photography. Having over 60 makers in our gallery, we need to take pictures of every product, for use on our online shop, exhibition site, social media and for publications. It can be time-consuming, however, it's necessary for a good digital display of your work.
Here are some top tips on how to do product photography at home. 
Smartphone Photography Checklist
Try to take your photos in a room with good light and place your setup close to the window. Try to start your photoshoot at the brightest time of day. If the sun is too bright, you can always use a diffuser sheet to soften the light or use editing programs such as Adobe Photoshop and Lightroom.
Use light lamps, ideally two. LED lights are good for product photography images. They are cheap and relatively easy to control because you can see the effect of the light before you even take a photo. We would recommend getting a ring light tripod, which you probably have seen before. It is a very popular lamp among bloggers and influencers.
Shoot from a smartphone tripod to reduce camera shake. Also, it will make your pictures look consistent, which means it will take all the pictures from the same height and angle.
Smartphone recommendations

You can use any smartphone with a good camera but aim to get your hands on a newer model with a 12-megapixel camera or more, such as:

Apple iPhone 8 or newer

Samsung Galaxy S8 or newer

Huawei P20 Pro or newer

Google Pixel 2 or newer
Prepare your photoshoot zone.

Get the backdrop – a white roll of paper (we would recommend the colour, Arctic White). A white backdrop reflects natural light onto the product and gives you an evenly lit photo. It also makes the editing process easier if you need to remove the background. 
Start taking pictures on a Smartphone. Before you start, use the following checklist to make sure your Android or iPhone camera is ready to shoot. 
Prepare your phone. Make sure your phone is charged and you have enough memory on your phone.
Set up your white balance. To set the white balance according to the light temperature in your setup, touch the WB button, then touch the white background.
Check your exposure. Tap the circular Exposure button, then set your exposure by moving the slider to adjust the exposure. It will make all the photos shot at the same exposure. 
Keep everything in focus. Touch the square frame during shooting so that the camera knows to properly focus on the product.
Once you lock your settings, you're ready to start shooting!
After-shoot editing. 
If you are not happy with your photos, you can always do basic editing on your smartphone. Sure, the Editing menu varies from brand to brand, but the main adjustments remain the same.
Choose your photo and click Edit.

You will see a pop-up menu with all sorts of adjustments – Exposure, Brilliance, Highlights, Shadows, Contrast, Brightness, Blackpoint, Saturation, Sharpness etc. Very often those adjustments will be enough, so you don't even need to use Photoshop or other editing programs.