Crafting in the Tent
17 October 2021 @ 2:00 pm

-

4:30 pm

£45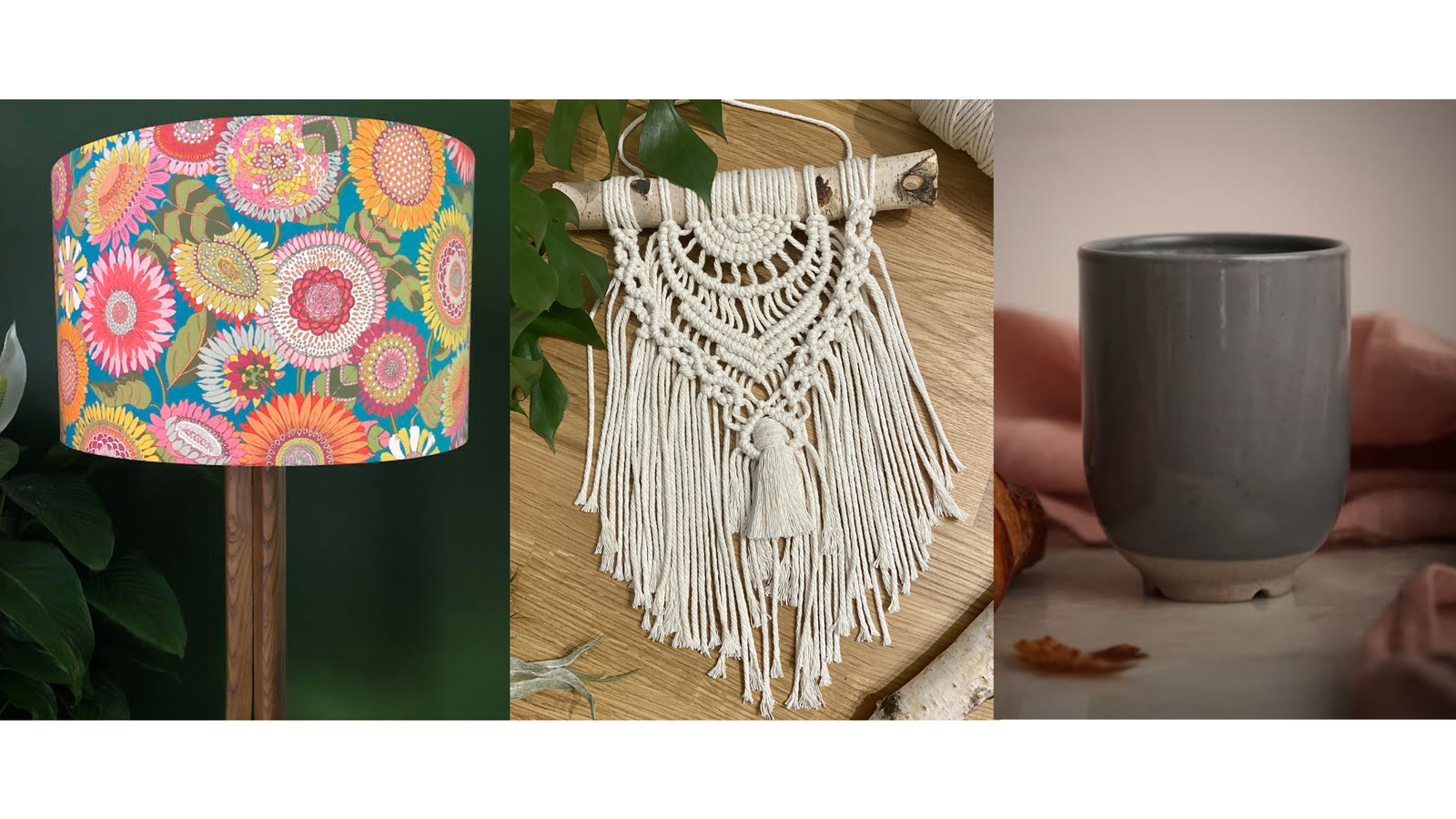 Mourne Creative has teamed up with the National Grand Cafe bar for a Crafting afternoon in the eclectic Cathedral Quarter Belfast to bring you not one not two but THREE different workshops in Pottery Macrame and Lampshade design all under the ONE tent
Its a great way to catch up with friends and to get those HANDCRAFTED Christmas presents started
POTTERY WORKSHOP
Come some have potty fun throwing your OWN rustic tumbler on one of our 8 Pottery Wheels
Tumblers are trending everywhere at the minute so why not make your own to keep or to give as a present The tent at The National is naturally aerated but it does have heaters incase it gets chilly
Learn the basic pottery techniques from centring to pulling up under the expert guidance of one our professional potters to produce your own travel tumbler that will be fired and collected in 4-6 weeks time
MACRAME WORKSHOP
Naoimh Larkin, hand Weaver, will guide you through the beginner knots in Macrame to make a boho wall hanging to give as a present or just to keep for yourself (because you are worth it)
Learn to make a unique, boho wall hanging. This is a beginner-level workshop which will encourage you to create something new, explore your skills, to work with your hands, decompress from the previous week, relax, and challenge yourself.
No prior experience needed!
You will:
Learn how to begin a macrame piece, including an overview of necessary materials.
How to work a few different macrame knots, including casting on, the square knot, and the half hitch.
How to create design, texture, and pattern within your piece by varying the knots as you work.
Leave with a finished wall hanging, and the know-how to design and create more pieces on your own.
Macrame is a beautiful theraputic craft whereby you can dable with it at your own leisure making lots of handcrafted items for Christmas once you have learnt the basics with Naoimh
LAMPSHADE WORKSHOP
Make your own stylish lampshade with renowned fabric genius Nicola Parkes Upholstery here in the National's Craft Tent Belfast in the eclectic Cathedral Quarter Belfast
With this workshop you will be able to take home your lampshade on the day to show off to your friends and family
You DO need to bring your OWN fabric according to your styling and taste.
Your finished lampshade will measure 40cm diameter and 25cm in height, the frames can be used for either a shade for a lamp or for as a ceiling pendant.
Here is some help on choosing your lampshade fabric:
You will need to bring along a standard width fabric of 138/140cm wide with a drop of 40cm
We recommend a thinner fabric such as a cotton, though thicker fabrics can be used but may be trickier to work with
If you wish to use a pattern fabric you need to ensure that the pattern works with a 25cm drop, for example if your pattern has birds on which are larger than the depth of the lampshade then you will end up losing heads or feet !!!
SUNDAY 17.10.21
Places are limited to eight people for each workshop and places are selling fast !!
Mimosas are also recommended!!!
Related Events