Late Night Art with ASTRL Fibres
4 May @ 7:00 pm

-

9:00 pm

Free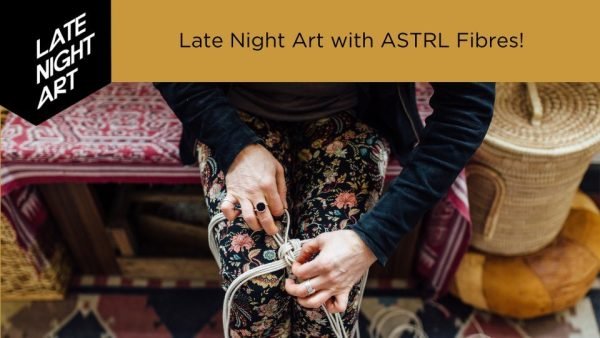 𝙇𝙖𝙩𝙚 𝙉𝙞𝙜𝙝𝙩 𝘼𝙧𝙩 𝙬𝙞𝙩𝙝 𝘼𝙡𝙞𝙨𝙤𝙣 𝙋𝙖𝙨𝙘𝙤𝙚 𝙛𝙧𝙤𝙢 𝘼𝙎𝙏𝙍𝙇 𝙁𝙞𝙗𝙧𝙚𝙨 will take place on Thursday, May 4th between 7 and 9pm  at Craft NI Gallery, Belfast. Come along and learn about the craft practice of macramé!
Alison Pascoe is a Belfast based artist and craftsperson specialising in the craft practice of macramé, a heritage knotting technique used to create decorative patterns using rope, cord and twine. Her collections are handcrafted art pieces and functional objects for modern spaces.
The practice of knot tying is a satisfying tactile experience and a mindful meditation that integrates deep relaxation alongside a high level of concentration. There is wonderful simplicity in using a single strand to create a perfectly engineered knot and a complex and decorative pattern through repetition. Her passion is sharing the benefits of practicing macramé by crafting in community and facilitating regular macramé workshops in studio and throughout the island of Ireland. Alison will also have macramé kits available to purchase on the night – a great way to introduce this practice into your home!
𝘿𝙤𝙣'𝙩 𝙢𝙞𝙨𝙨 𝘼𝙡𝙞𝙨𝙤𝙣'𝙨 𝙞𝙣𝙩𝙧𝙤𝙙𝙪𝙘𝙩𝙞𝙤𝙣 𝙖𝙩 7:30 𝙥𝙢 as she will talk us through her journey and demonstrate some macramé techniques. After that, the audience will of course have the opportunity to try their hand at tying some knots!
No booking necessary.
Related Events