Stitch Me Up For Life
11 March @ 11:00 am

-

7 April @ 5:00 pm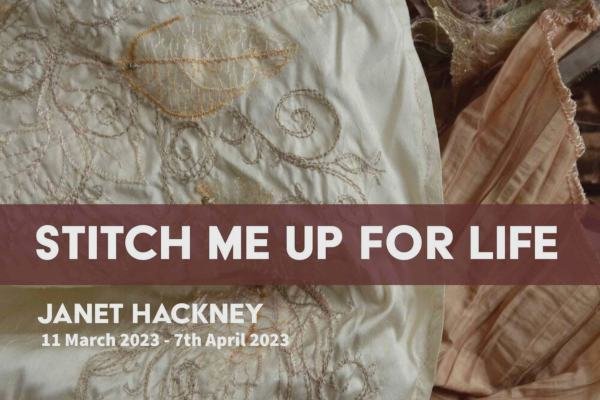 Stitch Me Up For Life by Janet Hackney at the R-Space Gallery in Lisburn will be exhibited in four sections:
The first section will include early works from her fashion and textile art college days, glove designs, prototypes and five garments with accessories and supporting drawings.
The second section will be her textile landscape works in felt, batik, machine and hand embroidery, cross stitched works. The third section will celebrate the costume work that she does for the volunteers at Castle Ward, the eighteen century National Trust property.
This will include  four ladies outfits, including Robe a La Francaise, The English gown with supporting shifts, corsets, petticoats, stomachers, hooped underskirts, pockets, bonnets matching shoes, a dressed wig, a maids outfit in linen, plus a gentleman's outfit with embroidered waistcoat, breeches, jacket and linen shirt.
For the fourth section Janet will spend a five day period of residency in the gallery where she set up her sewing machines and will hold a series of daily workshops "Playing with thread" for community groups.
About The Artist
The span of Janet Hackney's career in art and textiles reflects her artwork itself – strands of textiles, embroidery, modern digital technology, heritage and colour all coming together to create a unique and memorable range of pieces. She has taught art, needlework and textiles in schools in England, Malawi and Northern Ireland. An active member of the N.I. Embroidery Guild since 2000, she has exhibited with them throughout Northern Ireland. In 2017 at the invite of the New Zealand Embroiderers' Guild she gave several talks and workshops on her textile work and techniques.
The gallery is open 11am-5pm from Tuesday to Saturday.