'Wool Works' event: Textile Talk and Brunch
30 July 2022 @ 10:30 am

-

1:30 pm

Free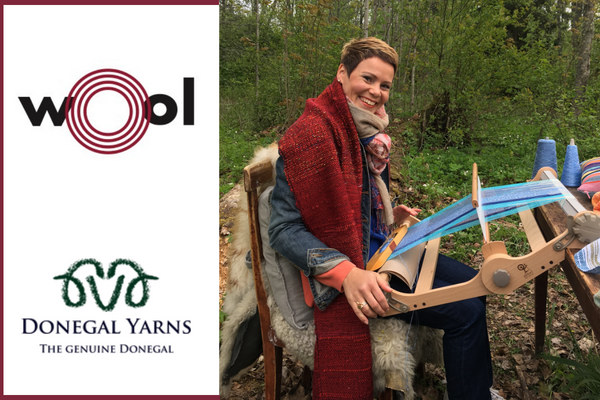 Join us for this unique event associated with the 'Wool Works exhibition currently on at Craft NI Gallery until August 5th.
The Textile talk and brunch will feature two very special guests: Chris Weiniger, general manager of Donegal Yarns woollen mill who will talk about Ireland's rich wool heritage, and  Finnish textile artist and weaver Niina Hiltunen who will talk about the importance of craft within communities and also do a weaving demonstration for the audience using a portable loom.
Niina Hiltunen is a textile and fiber artist working and living in Pirkanmaa region, Finland. She holds a master's degree in Art and Culture with weaving her specialty. She studied textile art at the University of Lapland 2020-2021 and starts there as a doctoral candidate in the autumn of 2022. Hiltunen is also interested in multidisciplinary art and in community art, which has led her having an exhibition at a psychiatric centre in Tampere in 2019, as well as leading art projects with the YMCA youth in 2019 and with dementia patients in 2021. Kädet kertovat (Talking hands), a multidisciplinary artwork combining textile / fiber art with contemporary dance, video and sound art, is her latest collaboration.
The programme of the day will be as follows:
– 10:30 – 11 talk with Chris Weiniger, general manager at Donegal Yarns woollen mill
– 11 – 11:30 coffee/brunch break
– 11:30 – 12:15 talk with Niina: Art & Well-being – Feel the weave and WeaveCreatively™: an introduction to a Finnish approach of textile art in community art practices. In her talk, Niina clarifies the administrative means and actions of The Finnish Governments in implementing art as a continuous part of life and cure, well-being in Finland. The second half of her talk will concentrate on her personal work as a textile artist and the workshops and community art practices she has led in the past years.
– 12:15 – 13:15 demo with Nina: Feel the weave – WeaveCreatively™ . Some examples and ideas of how to use weaving and portable looms as a means of community art. Material sponsored by The Donegal Yarns. The demo will last approx 1 hr, after which Niina will be available for questions.
Free admission.
Related Events